North Country Boatworks is a wooden boat boat shop located in southwestern Connecticut. We specialize in antique and classic wooden boats including full and partial restorations, refinishing, general repairs and annual maintenance. We also provide comprehensive woodworking services to the local Long Island Sound marine industry such as custom yacht joinery, brightwork repairs and replacements, hull and structural repairs, and offer many other woodworking capabilities. We use a combination of traditional boatbuilding methods and modern woodworking techniques coupled with the highest quality craftsmanship to produce award-winning restorations and outstanding custom woodwork.
We recently discovered the need for RAPTOR® nails during the full restoration of a 1957 Chris Craft 17′ Custom Runabout. At North Country Boatworks, we prescribe to the "5200" bottom replacement method when replacing the bottom planking of classic wooden boats. This method requires an inner layer of planking (usually plywood) be laid first, followed by the second outer layer of hardwood planking which is completely bedded in 3M 5200.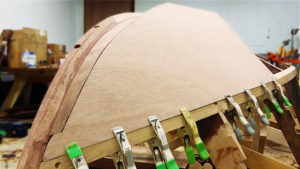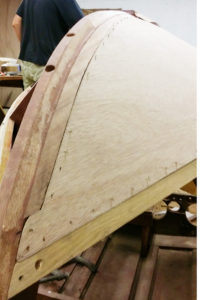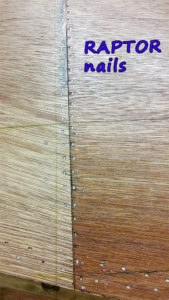 In the past we have tried several fastener types while fixing the inner plywood to the bottom framing: stainless steel or bronze nails, screws, and/or staples. These all perform the necessary function well, however there are two important drawbacks – 1. It is time consuming to pre-drill and hand-nail/drive screws, and 2. We were often enough hitting screw heads or nails while pre-drilling and driving the outer planking screws, causing them to break (wasting time and materials).
RAPTOR® fasteners provided the solution. This 17' Runabout has a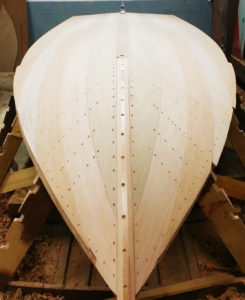 mahogany stem and keel, and white oak frames and chines; notoriously hard woods that must be pre-drilled to avoid fastener breakage. On this particular project, we found the RAPTOR® 1″ chisel point finish nail more than sufficient to fasten the ¼" inner plywood to the framework. There was no need to pre-drill and the fastening hold-down pressure was completely adequate, even in the most troublesome areas with the most compound bottom curvature. The plastic nail heads can be chiseled and sanded like wood, then predrilled and screwed into without breaking screws. Additionally, there are the added advantages of using a material without corrosive or conductive qualities, avoiding electrolysis and rot damage to the wooden hull and structure.
RAPTOR® nails have saved us both time and materials, and more importantly improved the overall quality of our products and service. We plan on utilizing more of their products on future restoration projects.
Andrew, North Country Boatworks
Stratford, Connecticut
203-212-3477 • NorthCountryBoatworks@gmail.com