Taylors Doors and Frames (TDF) and StyleWise Doors are current users of RAPTOR® fasteners. Both purchase from Braford Industries, our RAPTOR® distributor in Australia and New Zealand. Instead of traditional metal nails and staples, Taylors Doors and Frames and StyleWise have adopted RAPTOR® polymer composite nails and staples for use in the construction of their timber doors. While RAPTOR® fasteners have great holding properties and don't stretch or rust, they are most useful in constructing the door frame that is generally planed or cut off-site by the installer to fit a specific door jam.
"Previously, installers on the job site would often call us to complain of broken tools and blades caused by metal staples in the door frames. Now, we don't get those calls, plus new customers are choosing to purchase our doors specifically because of the polymer staples. It gives us a big edge over our competition" says Israel Orden of Stylewise Doors. "While they are more expensive for us than metal, they provide a better product for us to sell and big savings down the line for the installers who won't lose money on broken blades and wasted time" adds Steve Marcus of TDF.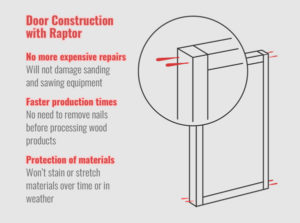 Braford Industries Director, Terry Parsons, says that "RAPTOR® nails and staples are a great advantage to anyone working with timber across a great variety of industries. Their ability to be sawed, cut or sanded without damaging equipment, is clearly the biggest benefit in this case, however their resistance to the elements is also a big bonus. Braford is really excited to offer this kind of innovation to the industry. We're always on the lookout for high-performing new products that we can offer to the Australian and New Zealand marketplace. We think Raptor will change the game for many makers and manufacturers once the word gets out. Raptor is set to revolutionize all forms of timber-working – if you're not on board with Raptor polymer fasteners, you need to check it out…"
Many thanks to Terry at Braford Industries, Steve at Taylors Doors and Frames and Israel at StyleWise Doors.